Mapping COVID-19 and Language
As the disproportionate and tragic effect on COVID-19 on NYC's most multilingual communities became clear, ELA partnered to map language and health data to assess the connection.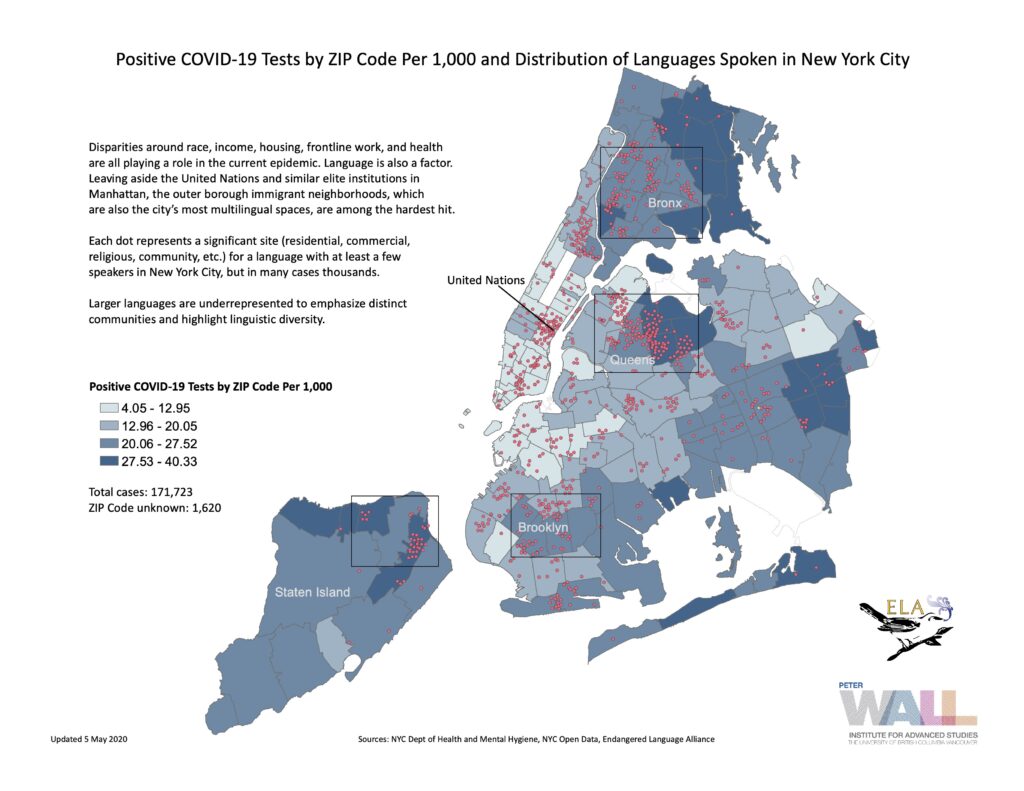 The Impact of COVID-19 on NYC's Multilingual Communities
Since late March, New York City has been the global epicenter of the COVID-19/coronavirus pandemic, with more than 170,000 confirmed cases and over 18,000 confirmed deaths as of early May. Nearly every New Yorker has been affected, but the effects have not been evenly distributed. While there is emerging evidence in city data of serious disparities by race, it is also becoming clear, as this map indicates, that multilingual immigrant communities have been among the hardest hit.
This map combines the number of confirmed COVID-19 cases per 1,000 people by ZIP Code (as of May 5, 2020—the first major wave in the city) from the NYC Department of Health with the Endangered Language Alliance's recently released NYC Language Map, which emphasizes linguistic diversity by representing 700 languages at over 1200 significant sites across the city, based on a decade of collaboration and data-gathering with the city's language communities. The total number of COVID-19 tests administered per capita by ZIP Code, using the same city dataset, was also mapped for reference.
Despite significant nuances and challenges — such as how to represent languages (especially the more widely-spoken) at individual locations, major variation in population per ZIP Code, different levels of testing for COVID-19 — some overall patterns are clear:
The Central Queens neighborhoods of Corona, Elmhurst, and Jackson Heights, where hundreds of minority and Indigenous languages are spoken from across Latin America and Asia, has become the "epicenter of the epicenter", with approximately 11,000 cases and hundreds of fatalities (as of early May).
Major immigrant neighborhoods that are home to speakers of smaller languages from across Latin America, the Caribbean, and West Africa are bearing the brunt of the outbreak in Harlem, the Bronx, Southeast Queens, and Staten Island, with high mortality rates.
The most linguistically diverse stretch of neighborhoods in Brooklyn, from Borough Park to Canarsie and including major Jewish, Caribbean, and post-Soviet diaspora communities, has the highest number of cases in the borough.
These patterns are confirmed in stories from the communities themselves. Immigrant workers on the frontlines, such as essential care workers, food workers, and transit workers are at greater risk. Disparities around housing, income, health, and immigration status also play a role. A lack of timely, widely disseminated information in community languages, despite efforts, is another critical factor. Language is just one important indicator — note, for example, the affluent multilingual cluster around Manhattan's United Nations with relatively fewer cases.
New York City's multilingual immigrant communities are organizing, from mutual aid among Brooklyn's Mayan community to a Queens-based Nepali network. The COVID-19 Immigrant Emergency Relief Program announced on April 16 is another important step, but more is needed.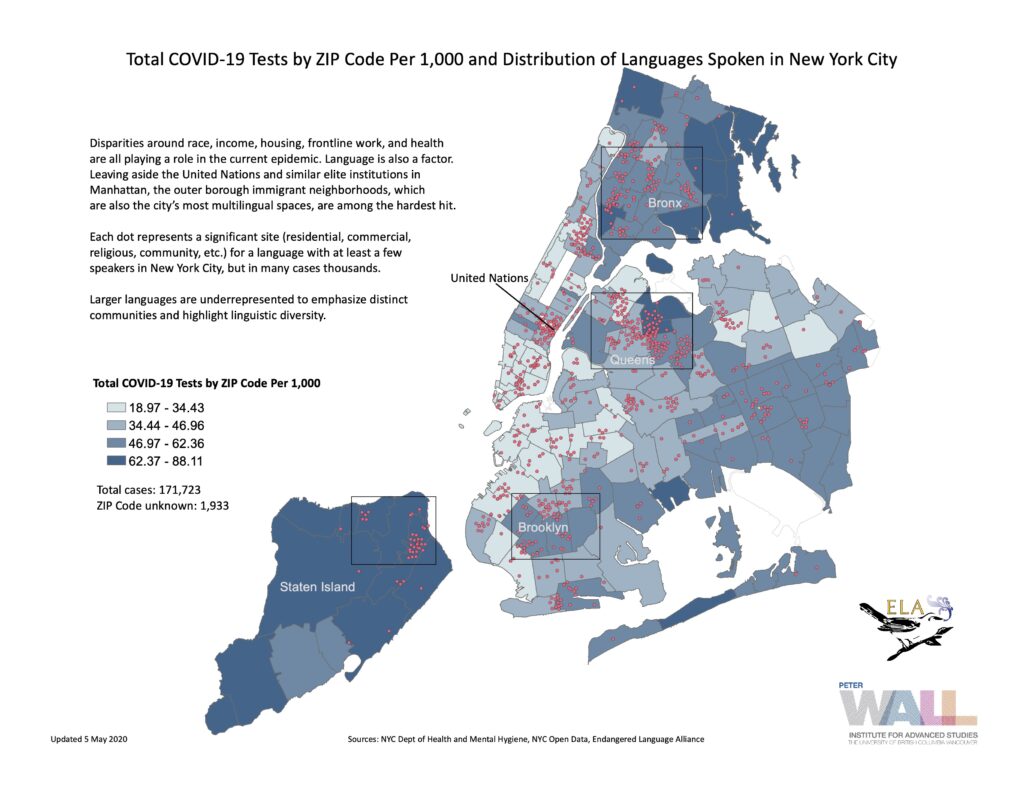 These maps were produced by the Mapping Linguistic Diversity partnership, bringing together the Endangered Language Alliance and researchers at the University of British Columbia and Dartmouth College, with support from the Peter Wall Institute for Advanced Studies, Dartmouth College Office of the Provost – Spark Initiative, and the Dartmouth Department of Anthropology – Claire Garber Goodman Fund. Media contact: info@elalliance.org
Click here to download the map in PDF format.