MOTHER TONGUES: ENDANGERED LANGUAGES IN NEW YORK CITY AND BEYOND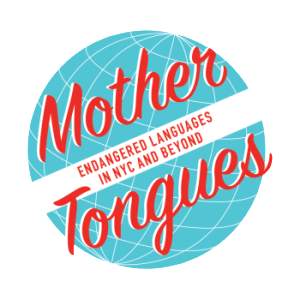 ELA in collaboration with City Lore and Bowery Arts + Science presents Mother Tongues: Endangered Languages in NYC and Beyond, an exhibit from Jan 29 – April 16, 2015 at: the City Lore gallery.
The exhibit features new photography by Yuri Marder, Bob Holman's Khonsay video w/mural by Mark Turgeon, audio recordings, new booklets in and about NYC's endangered languages, a recording booth, educational displays and more!
Please join us for the opening reception:
56 E 1st St, bet 1st and 2nd Avenue.
The opening will feature an opening blessing performed by José Juarez, Totonac shaman, a recitation by Papa Susso, one of Africa's great griots, and a short introduction to the show by the directors.
Mother Tongues is sponsored by City Lore, Bowery Arts + Science and the Endangered Language Alliance. Funded by the National Endowment for the Arts, the New York State Council on the Arts, and the New York City Department of Cultural Affairs.