Community-Based Programs
ELA has helped produce a range of community-based programs connecting language, health, food, and culture, particularly in partnership with Indigenous Latin American communities and the New York City Department of Health.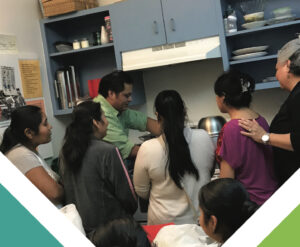 Language and Health
A growing body of evidence connects the language and health, with one major focus of research on the health benefits of language mainteance and revitalization. For more about ELA's communty-based participatory research with the NYC Department of Health — out of which the following programs have grown — read here.
Xilonen: Promoting the Health of Indigenous People Living in New York City Through Culture, Food and Language
Named for the Náhua goddess of corn and the personification of tender corn, baby corn and an abundant harvest, the Xilonen Project was a seven-week series of activities related to Indigenous cultures, with a focus on food, language and community. The intiative involved interviews to better understand the demographics and challenges facing this community of Nahuatl-, Mixtec-, and Mam-speaking mothers. Xilonen also addressed addressed food insecurity by providing a supportive environment for people to speak their languages and share recipes based on their culinary traditions.
Xilonen was held in collaboration with the NYC Department of Health and the Little Sisters of the Assumption Health Center in East Harlem. Read more here.
Indigenous Textiles Collective
The Indigenous Textiles Collective — a collaboration between ELA, the NYC Department of Health, American Indian Community House, Red de Pueblos Transnacionales, Endangered Language Alliance — aims to strengthen cohesion among Indigenous peoples in NYC, share and learn new traditional textile skills and potentially develop a new source of income from their creations. The sewing skills learned by participants in the workshops are now being used by them to create face covers that are being donated to other migrants and essential workers during the COVID-19 crisis.)
The Meso-American Lotería
ELA worked with community partners to develop a fun, beautiful lotería, a traditional Mexican game of chance that uses images — as a language learning tool for young and old giving written visibility to generally oral languages like Mixtec and Nahuatl. The creation of a game in Indigenous languages enhances parent-child interactions in a context where overworked parents may have limited time with their children.
Interpreter Workshops
As part of ELA's efforts to improve language access in NYC (and by extension elsewhere), the first-ever Indigenous Interpreters Workshop was co-organized in February 2020 with La Red, FIOB, and CIELO, a community-based program bringing together dozens of intepreters of Indigenous Latin American languages in the Bronx for a weekend of training, discussion, and skill-sharing.