For the seventh installment of Unheard of!, the Endangered Language Alliance, Mano a Mano: Mexican Culture Without Borders and Bowery Arts & Science present poetry in indigenous languages of Mexico.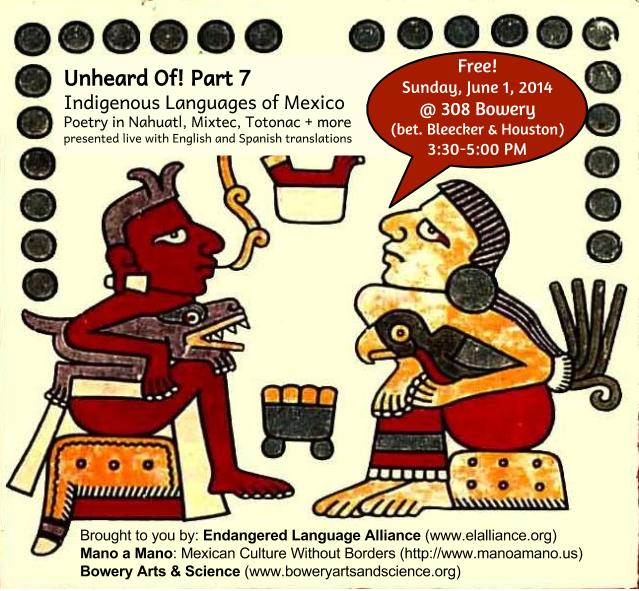 Mexico is a major center of linguistic diversity. The Mexican government officially recognizes 68 indigenous language groups, and each of these groups counts a large number of language varieties, many of which are spoken in New York. But despite the pervasive Mexican indigenous presence in the city, this linguistic and cultural diversity is seldom celebrated or even recognized.
Come to Unheard Of! 7 and hear poems in Nahuatl, Mixtec, Totonac and other indigenous languages read by native speakers and accompanied by music and translations.
Q & A session to follow.
Unheard Of! is an ongoing series presented by the Endangered Language Alliance highlighting the linguistic and cultural diversity of New York City and beyond.

SUNDAY June 1st
3:30-5:00 PM
@ Bowery Poetry
308 Bowery, New York NY
between Bleecker & Houston
Admission FREE
(Donations gratefully accepted)